Highly-Responsive IT Support And Managed IT Services
For Your Kansas City Business:
Achieve Greater Employee Productivity And Grow Your Business Knowing Your Computers And Network Are ALWAYS UP And RUNNING
Call

913-239-0368


To Schedule A 15-Minute Discovery Call
Are you sick and tired of dealing with computer guys who are
IMPOSSIBLE TO REACH, WON'T FOLLOW THROUGH,
CAN'T EVER FIX THINGS RIGHT AND NICKEL AND DIME YOU FOR EVERYTHING?
If so, we're here to change your perception of what your
IT service provider can do for you.
Let us PROVE to you how Business Data Services's FAST, FRIENDLY and HIGHLY-RESPONSIVE
Proactive IT Services can keep your team productive and your network safe.
Over 20 years of supporting Kansas City businesses!

You Will ALWAYS get a response in 3 minutes or less

100% Kansas City Area Local Help Desk

100% Money Back Guarantee on our services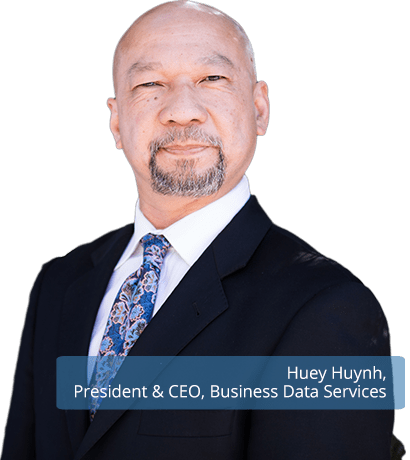 Start Expecting MORE From Your IT Service Provider
DISCOVERY CALL
On this call, we'll discuss your unique situation, any concerns you have and answer any questions you have about us.
ASSESS
A senior engineer conducts our proprietary 27-point assessment of your network's security and overall health.
CONNECT
We work one-on-one with your team to ensure your IT and security goals are achieved at a reasonable budget.
PROTECT
Gain peace of mind 24/7 knowing your computers and network are monitored for maximum uptime while protecting your data from cyberattacks.
See what other Kansas City business owners are saying about us…
Not Ready To Call Us Just Yet?
Huey Huynh - Co-author of Amazon Best-Seller "YOU Are The #1 Target"
Do you wish to be a target? No, no one does. However, in this electronic 'brave new world' (with apologies to Aldous Huxley), we have transitioned from hunter to hunted. Also, with computers playing a dominant role in everyday life, the entire world is now in realtime, living in a world of websites, passwords, and smartphones.
While this book focuses on various topics within cybersecurity and all things security, Huey's chapter is titled "Your First Line of Defense". In this chapter, Huey discusses the 6 steps to success for small business owners' network security protection.